Spring and summer travel season is almost here and that means vacations and air travel for many families! As parents, we know the stress and anxiety that can come with air travel, especially when you have kids in tow. But with a little bit of planning and preparation, you can make air travel with kids an easy and enjoyable experience for both you and your children.
We've got 4 practical and easy tips to help you prepare for your next flight with your kids and make the travel a fun part of vacation too!
1. Do some pre-flight preparation
The key to a successful air travel with kids is preparation.
Research the airline's policies regarding traveling with children, such as age restrictions for infants, car seat guidelines, and what to do in case of a flight delay. Make sure to book your tickets early to get the best seats and to have plenty of time to prepare.
Another important factor is preparing your children for the upcoming journey. Talk to them about the process of air travel, from checking in to boarding the plane, and explain to them what they can expect. You can also show them pictures and videos of the airport and airplane, so they can get an idea of what they will experience.
Have conversations, answer questions and make sure they feel comfortable and prepared, especially if it is their first flight!
2. Make kids part of the packing process
Vacations are exciting and for our kiddos, packing and managing their own bags is a great way to get them involved and encourage great independence building skills!
Encourage your kiddos to pack their own bag. Help them create a packing list to ensure they have everything they need and model the way to fold and pack their suitcase. They can practice with zippers, handles and rolling their bags if they are on wheels.
For the flight, give them their own backpack or carry-on bag that they can use to carry their toys, snacks, and other essentials. Make sure the bag is the appropriate size and weight for your child and help them decide which items they'd like to have.
Allowing kids to participate in the "getting ready" is an awesome way to teach important executive functioning skills!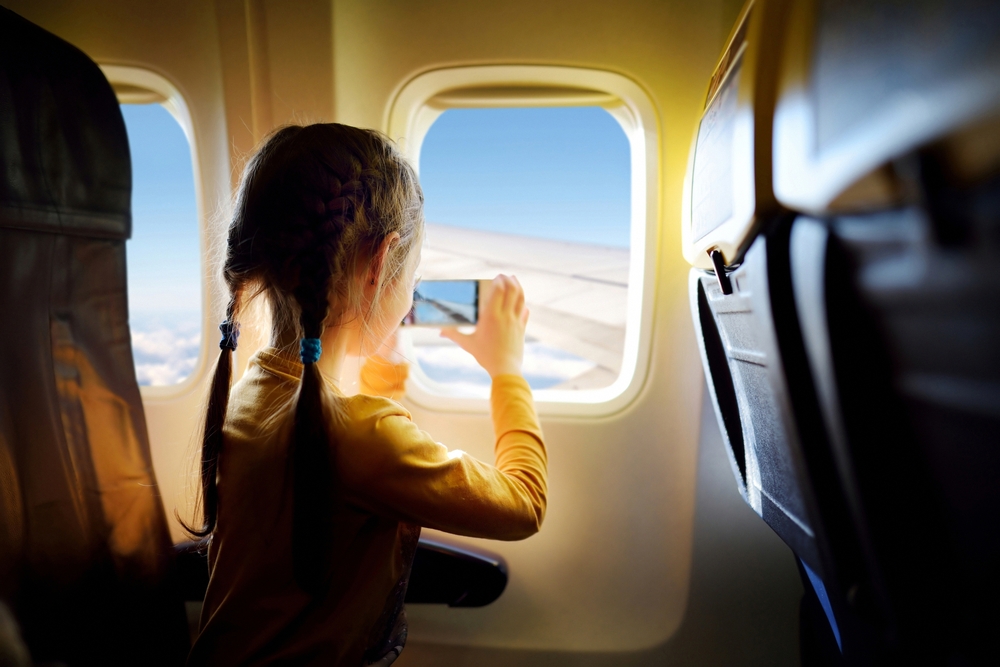 3. Talk about appropriate airport and air travel behavior
Teaching appropriate airport and airplane behavior is so important to making air travel with kids easier!
Before your trip, take some time to talk about and explain the rules of behavior in the airport and on the plane. Remind them that there is no running, yelling, or throwing things. Remind your children to be respectful of others and to listen to the flight attendants.
On the airplane, make sure your children understand the rules of the seatbelt, tray table, and overhead compartment. Encourage them to be quiet and considerate of the other passengers around them. Bring plenty of snacks, games, and activities to keep your children entertained during the flight.
4. A few extra things to think about when it comes to air travel with kids…
In addition to the more comprehensive tips above, we have a few other important points to consider when planning your trip… 
Pack plenty of snacks and drinks for the journey, as airport food can be expensive and unhealthy. You can also pack some healthy snacks like fruits and sandwiches that will last the whole journey.
Make sure your children have comfortable clothes and shoes to wear for the trip. Choose clothes that are easy to put on and take off, and shoes that are easy to slip on and off during security checks. This makes air travel with kids so much easier!
Make sure to bring all necessary documents, such as passports and travel visas, for both you and your children.
Plan for extra time. Traveling with kids can take longer than expected. Plan to arrive at the airport early, so you have enough time to check-in, go through security, and get to your gate.
Pack an extra set of clothes in their carry on. Our kiddos can be messy! So it's always a good idea to pack extra clothes in case of spills, accidents, or weather changes.
Vacation and travel is such a fun and exciting time for our kids! Taking some time to prepare the whole for air travel with kids will alleviate stress and any last minute craziness!
We hope you have a great trip!!
And if you're looking for more support or resources, we'd love to help! Check out our Services page and reach out!