Summer is here! We're ready for lazier days, sleeping in, family vacations and backyard bbq's! But just because we're out of the school year routine doesn't mean we can't play with a purpose and keep those OT skills strong with fun summer activities!
We've put together 10 super fun, super effective summer activities to keep your kiddo's mental and physical muscles moving while we enjoy the long warm days! One of the best things about ALL of these are they are low tech and super easy to do with what you probably have around the house. 
They're also things that most kids love to do anyway, another win! So try a few, try them all and have so much fun playing with a purpose!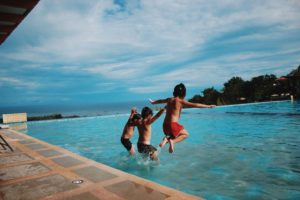 10 Summer Activities for OT Support
1. Sidewalk Chalk Play! 
Use sidewalk chalk to work fine motor skills and visual motor acuity. 
Write names, letters, numbers on the driveway, sidewalk or on a vertical surface

Draw a map of a town and use cars, trucks or even their bikes and scooters to follow the chalk roads

Use stencils or other objects to trace around
Play driveway Pictionary
2. Easy Spray Bottle Activities! 
Fill a basic plastic spray bottle full with water and strengthen those fine motor muscles.
water plants

wash away chalk art 

practice spraying onto a paper target

fill the bottle with food coloring and create your own art
3. Blow Bubbles Everywhere!  
Blow bubbles to promote oral strengthening input and then use just one finger to pop each bubble. That one finger isolation works fine motor muscles!
4. Get Sandy and Have Some Fun!
 Fill a pan with sand and practice writing letters, numbers and shapes. Encourage kids to use their fingers and mix up the sizes of letter and numbers for some extra challenge. 
5. Play-Doh Hide and Seek!
Hide small objects in Play-Doh and let the kiddos dig through to find their treasure.  
6. Create Your Own Circus! 
Grab the sidewalk chalk, draw your big top tent and have some fun! This promotes so many important skills all at one time – fine motor, gross and visual motor, executive functioning skills and so much more as you plan and create your at-home circus.
Place a long piece of tape on the ground and practice walking the tightrope

Be a circus animal and move like they do. Animal walking is an awesome way to work on coordination

Practice tumbling moves
Use chalk to draw the different areas of your tent
Try a new skill – learn to juggle!

7. Big Imaginative Play!
Grab an old cardboard box and some crayons and let their imagination run wild! Encourage them to draw, write or color and create their own little world. 
8. Evening Scavenger Hunt!
Break out the flashlights, take advantage of the warm evenings and work those critical thinking and organization skills. Set up an easy, around-the-yard scavenger hunt that let's kids problem solve, use deductive reasoning and build independence. 
9. Grab The Shaving Cream!
Get a different sort of tactile experience and mix shaving cream with food dye. Smooth the shaving cream out on a tray and let the kids write, draw and get a bit messy! 
10. When In Doubt, Add Water!
The easiest way to incorporate all of the important skills our OT's focus on in therapy (and stay cool on these hot days) is to just add water!
Fill a bin or tub with water and add a bunch of animal bath toys for some great sensory play. Make it a game and see who can squeeze the fish and make water shoot the furthest! 

Run through the sprinklers

Set up a water table and splash around 

Fill water balloons and play a cold, wet game of catch

Go for a swim! Swimming is an activity that truly incorporates it all –

sensory integration, motor planning, spatial awareness, bilateral coordination, core and overall strength and so much more.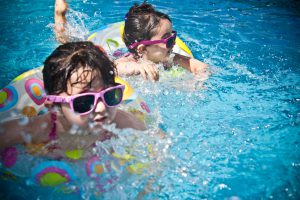 Summer break doesn't have to mean a break from all the progress our kiddos made during the school year! These summer-friendly, kid approved activities provide all the skill building, sensory support AND fun they need to truly make it a summer when they can play with a purpose. 
Looking for some further guidance and support? Reach out! We'd love to help you!