As our babies grow and develop in their early months, it's easy to wonder about big milestones – rolling over, sitting up unassisted, crawling, etc – and with that wondering comes lots of questions. 
A question we hear a lot in a child's early stages of development is, "My baby isn't sitting up yet, what should I do?" 
Let's start by looking at some average milestone stats – 
On average, babies start to practice sitting with assistance around

6 months

, mastering the skills and sitting unsupported by about

9 months

.

By 12 months babies should be able to get into, and out of, a sitting position without any help. 
It's also important to remember that all babies differ and some kiddos may achieve these milestones quicker than others – if you're concerned at all, reach out to us! 
To help support this big milestone, take a look at some easy ways to start building those gross motor muscles at home.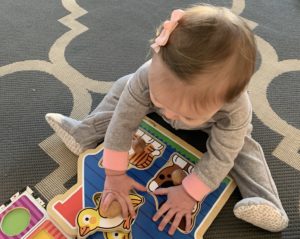 5 Ways To Support Unassisted Sitting 
Start With Strong Neck And Core
Sitting up unassisted requires strength in a baby's neck and trunk (the core). To ensure those muscles are ready to take them to their next gross motor milestone, make sure they are getting plenty of time playing on the floor both on their back and tummy.
Use colorful play mats, mobiles and high-contrast toys to encourage movement. As babies engage with the toys around them they will be strengthening those neck and core muscles. 
Practice Assisted Sitting 
When babies are first learning to sit up, help them practice by sitting with them. Start with the baby on the floor in front of you and use your legs to gently support them and keep them balanced.
You can also support them at the waist with your hands as they explore the world from this new vantage point! As they become stronger and their balance increases, you can swap your own body for a boppy pillow to give a bit of added support. 
Practice Prop Sitting 
Prop sitting, or early sitting, is when a baby is sitting on the floor, leaning forward on their hands and supporting themselves unassisted. 
If this is a bit too challenging you can help support them by placing a stable toy in front of them to "bring the floor to them". As they build strength and balance, take the toy away and allow them to balance on the floor. 
Start Small & Build Up
Sitting is hard work for our babies when they're first working on this big skill! 
When they start to practice sitting up, both supported and unassisted, work in short bursts. As they build strength and stamina these sitting sessions can go longer but at first, know they will probably tire out quickly and get fussy. 
Like with all major milestones, smaller chunks of work in the beginning is going to benefit your kiddos the most! 
Keep It Fun – Play With A Purpose!
When it comes to doing big work, we love to keep the big fun going too! As your baby learns to master this new skill, remember to help them along by making each session a lot of fun! 
Keep favorite toys at eye level to encourage them to look up and extend their trunk. Entertain them with books, musical toys or other family members as they work on this big, new skill. 
Child development in its early stages can feel like a bit of a mystery, especially for first time parents, but it doesn't have to be! When your baby reaches the age that they begin to sit up, assisted and independently, keep in mind these few easy tips to help them reach this milestone. 
If you're looking for some support and guidance, Beyond Speech Therapy Specialists is here to answer questions, provide guidance and help you find the best tools and strategies to support your kiddo's development. 
Reach out! We'd love to help.