One of the first times we meet a lot of our wonderful kiddos is at their initial speech and/or motor screening. For families who are new to the world of pediatric therapy, this initial assessment probably comes with a lot of questions.  
These quick and easy screenings give our therapists a snapshot of where your child is developmentally and if they would benefit from a more thorough evaluation and possible therapy services. 
Let's break down how our screening process goes and get you and your kiddo ready! 
1. Pre-Screening
Our first step in the process is to reach out to a daycare or preschool and set a date for our therapists to come in and do the initial screenings. 
(We also offer free screenings to families looking for that first assessment – reach out and we can set that up for you!)
Before the date of your screening we will send home a parental consent form and on that you can indicate if you'd like your child screened for Speech, Motor (PT/OT) or both. You also have the opportunity to indicate any concerns you're having with your child's speech and/or motor development. 
This form is so helpful to our therapists because they are able to look at those skills specifically during the screening process. We will also take time to check in with classroom teachers and staff regarding anything they are seeing during the day that may lend to a truly thorough screening for your child. 
2. On The Day of The Screening
Start the day well and make sure your kiddo is well rested and has had a good breakfast and/or lunch. Let them know they will be meeting with someone to do some fun activities and play new games – we are always playing with a purpose, no matter what! 
During the screening there will be 2 Speech-Language pathologists and 2 Occupational therapists present. Each child will be given a few tasks to complete and the therapists will be looking at certain skills. Our screenings are quick and fun and feel just like regular play!
For the speech-language screening, we will be looking at:
Speech sounds – kiddos are asked to repeat words back to the therapist.

Sequencing stories – children are given picture cards to put into sequential order.

Labeling & functions – The kids are shown 5 pictures of everyday items. They are asked to label each item pictured and state the function of each. Then they will be asked to name 3 items in a similar category to the 5 they were shown (i.e toys, foods, animals)

Answering WH questions – The therapists will ask each child some WH questions – who, what, where, why.

Basic Concepts – Using different items (block or small toys) each child will demonstrate their knowledge of basic concepts – over, under, behind, next to, etc.

Open ended conversation – Our therapists will engage in friendly open conversation with each kiddo to assess social language and voice/fluency.

During motor (OT/PT) screening, our therapists will look at:
Fine Motor skills – Kids will be stacking blocks, holding scissors and pencil, copying letters and numbers and for children aged 4-5, writing their name.


Gross Motor skills – We will look at the way each kiddo can throw, jump, hop, skip and stand on one leg.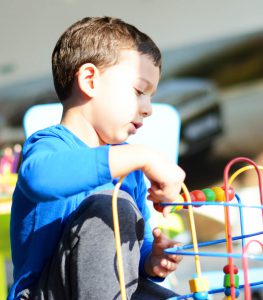 3. After Each Screening
In the days following your child's initial assessment, you will receive a results report from Beyond Speech. 
This report will let you know if your kiddo passed and is not in need of additional therapy, if they displayed some developmental errors or if they did not pass the screening and are in need of further evaluation.
With these results we also include more information about developmental milestones for parents to keep for their own reference. 
At this point we will partner with parents to decide the best course of action for their child – in- home private therapy, school based therapy or Early Intervention services if the child is 3 years old or younger. 
Regardless of what the results are, we always encourage parents to reach out to us to discuss any concerns they may have. Beyond Speech Therapy Specialists are here to help, support and provide however we can!