Phew, what a year! As we come into this Thanksgiving holiday season, and close out 2021, we can't help but pause and reflect back on the year we've had at Beyond Speech Therapy Specialists. 
In spite of the post-pandemic challenges, we have continued to grow, expand and serve our families in new and better ways! Our greatest joy is seeing the progress and success for each of our kiddos and we love being able to work so closely with our families.
As we all grappled with life during a pandemic, we were able to continue to serve our clients in new and effective ways! 
We set up tele-health appointments so our kiddos wouldn't miss their sessions.

We took our sessions outside when possible and maintained social distancing. 

We created digital materials for each family so materials weren't being shared by multiple children.

We adjusted our sessions to better serve the social/emotional needs of our kiddos and families during a hard and confusing time. 
Beyond Speech Therapy Specialists began with a simple mission – to provide the best in-home therapy possible and to teach families how to play with a purpose. We know that therapy can seem daunting, for caregivers and kiddos, but it doesn't have to feel that way! By incorporating games, toys and everyday kid-approved activities into sessions, our therapists are changing the way therapy is done – we couldn't be more proud, excited and humbled by what our amazing team accomplished each day!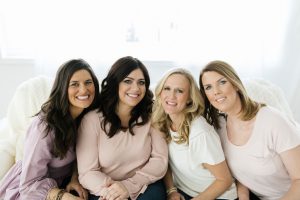 Our Thanksgiving Message
We want to send a huge message of gratitude this year to the families who welcome us into their homes and become partners in the therapy journey. What we together are able to provide to your child is life changing! Thank you for trusting us, partnering with us and pulling us into your world with open arms. 
Your child's progress and success are measured not just in data points and evaluations, but in the support, encouragement and love they receive from those closest to them. Our kiddos are achieving and growing thanks to you!! 
To our truly amazing team of therapists – we couldn't do what we do, provide the level of service we provide or build this community without each of you! You take on your day with passion, drive and love and we couldn't ask for more. 
To the school staff who have partnered with us over this past year to support our kiddos throughout their day, thank you for meeting us in a place of collaboration and love! The kids are achieving so much and finding such success thanks to our combined efforts!
To everyone working so hard behind the scenes at Beyond Speech Therapy Specialists, you keep it all running smoothly and we'd be lost without you!
And since we know that appreciating the little things is a skill made stronger with practice, we, Carrie, Jill, Katie and Laura, are grateful for…
…our clients that remind us to always laugh at silly jokes
…the person at Starbucks who bought me a coffee
…the kid who shared their Halloween candy with me
…the family that invited us to stay for dinner while we waited for our flat tire to be fixed
…the client who reminded us, on a yucky, rainy day, not to complain because it was a great day for the flowers!
…the person who let us cut into traffic on a day we were running late
…the family that knitted a blanket for one of our therapists new baby
There is so very much to be thankful for this year! 
We are so excited for what's to come in 2022 (our 10th year!!) and the continued opportunity to serve our kiddos and families! You are the reason we love what we do!
All our love and Happy Thanksgiving,
Carrie, Jill, Katie & Laura