It seems like our kids have busier schedules than we ever had growing up! Between sports, activities, playdates and appointments, parents and caregivers sometimes feel more like personal assistants than anything else.
We've got a few tips to help you better manage your child's busy schedule and keep everyone, and everything, running smoothly.
Also, it's good to remember that each child is different! While some kiddos thrive being busy and always on-the-go, others may find a packed schedule overwhelming and not fun at all. As you're planning ahead, consider each of your child's own preferences and work within that!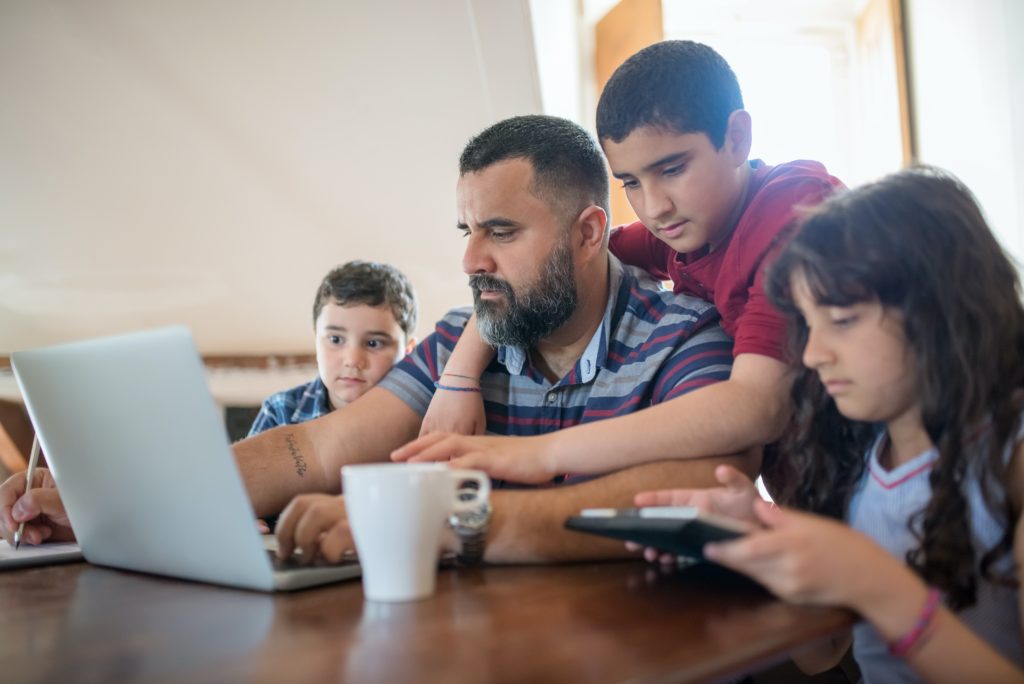 5 Tips To Better Manage Your Child's Busy Schedule
1. Create a visual schedule/calendar and a "command post"
A visual calendar and schedule is an awesome way for all kids, regardless of reading ability, to be able to know exactly what is planned for them.
Create your own calendar or purchase a kit to help you set up the perfect visual schedule for your family. Spend time discussing how the schedule works, which activities belong to which child and how the whole family will help maintain it.
It's also a great idea to create a space in your house that can be your activities "command post" – one spot for any and all paperwork, IDs, passes, permission slips, etc. associated with the activities on the calendar.
Creating one place for all activity related stuff will keep you from searching for things when you need them and allows kids to better manage their own activities.
2. Have weekly family meetings to go over busy schedules
For busy kids, knowing what to expect ahead of time will help ease any anxiety and allow them to feel confident and supported in their week, especially if they have a busy schedule. 
Set aside a bit of time at the end of each week to look at the coming week's activities – review what each child has scheduled and talk about how the week will go. Discuss any changes in drop-offs, pick-ups or schedule changes.
Allowing this time to discuss schedules as a family gives kiddos a sense of security and ownership over their own plan for the week.
3. Always discuss changes in plans
Busy schedules always come with changes. Make sure that any changes, whether last minute or planned, are discussed right away.
This, again, gives kids a sense of security and confidence in their own schedules. When they know about any changes right away, they can adjust expectations, plan to do something else or just know they have some downtime coming up.
4. Encourage kids to help things run smoothly
Part of managing a child's busy schedule is delegating tasks when and where you can. This is the perfect time to get the kids involved!
Plan for each child to be in charge of certain tasks and to-dos throughout the week.
They can…
– check that any uniforms are in the laundry or ready to go
– complete a checklist for certain activities the night before
– make snack bins for each day so they are easy to grab and go
– help younger siblings get clothes or equipment ready
5. Maintain a routine
When your family is managing busy schedules, one of the best things you can do is establish a strong daily, nightly and weekly routine.
Kids who know exactly what to expect in their day and week, and what is expected of them, feel better prepared for all the things they have to tackle! Having a routine in place will help kiddos feel supported, prepared and it also builds strong, healthy habits that will serve them as they grow.
Routines also help to streamline everyone's day, making the juggle of multiple activities much easier to manage. When you're trying to stay on top of so many things at once, having an established routine is incredibly helpful!
---
Our lives are so busy these days! And sometimes it may feel like we're simply surviving from one activity to the next, but having some good, solid plans in place will save everyone from feeling a bit frazzled. 

And if you're looking for more resources, tips and information, check out the Beyond Speech blog!