When our kids are learning to write, they are practicing a complex set of skills that are all coming together for one purpose. As children learn how to properly write letters, words and then sentences, there are some things we can do to support and encourage their handwriting.
For beginning writers some common challenges include poor pencil grasp, incorrect letter formation or sizing, difficulty spacing words, inconsistent letter sizing, trouble copying written words, etc.
If your child is struggling a bit with their handwriting, start with these simple tools and tips. 
1. Start with the right tools!
You can support their handwriting practice by having the right tools ready to go!
Lined handwriting paper provides great visual boundaries for where letters should be placed.
Pencils made for beginner handwriting help support writing success! These larger pencils can be easier for small hands to grip and help with finger placement.
Pencil grips are an easy fix for kiddos who need help grasping a standard no. 2 pencil and are available in so many fun colors!
Spacing tools are awesome for kids who struggle to keep their words spaced well within a sentence.
Slanted writing boards encourage better overall writing posture and hand placement.
2. Encourage drawing and coloring all the time!
At Beyond Speech we love to play with a purpose! And when it comes to the fine motor skills associated with handwriting, there are easy and really fun ways to practice important skills and work those fine motor muscles.
The simplest, and most kid friendly, way to work those skills is by keeping them drawing and coloring as much as they'd like! As they have fun and get creative, they are working small muscles, practicing pencil grasp and receiving sensory feedback on the pressure needed to create lines.
Grab some paper, crayons, colored pencils – whatever you have laying around – and turn downtime into creative play! They'll be building important skills while just being kids!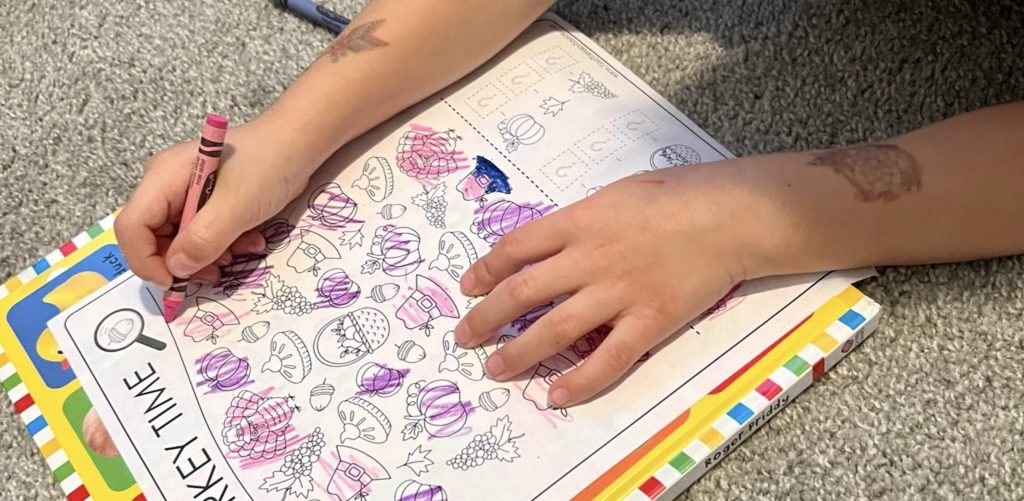 3. Stay positive and patient!
Learning a new skill is always hard and handwriting is no exception. For kids just starting to work on their letters, words and sentences, it can easily become frustrating and overwhelming for them.
This is where we, as parents and caregivers, can become positive and encouraging cheerleaders! It's so important that we are modeling positive, patient behavior when it comes to handwriting because they are usually looking to us for emotional direction.
Keep handwriting practice fun with incentives, handwriting games and positive reinforcement!
4. Reach out for help! 
Even with lots of patience, practice and encouragement, your child may still be struggling with their handwriting – and that's ok! There are so many resources to help your child find success!
You can start by talking with your child's teacher about the challenges you're seeing at home and what they might recommend. 
It may also be helpful to reach out to our OTs here at Beyond Speech for resources and evaluations – we're ready to support you and your child any way we can!
---
Learning a new skill is big work for our kids! And when it's a complex skill like handwriting, it can be so exciting and a bit frustrating for them as well.
Being ready with a plan, support and resources to help your child find success is easier than you may think!
Beyond Speech Therapy Specialists is your best resource for private, in-home therapy in the southwest suburbs of Chicago! If you're looking to talk with, or schedule, a therapist, you can do that here.
And be sure to follow us on Instagram and Facebook for lots of tips, updates and play-with-a-purpose fun!
As an Amazon Associate we earn from qualifying purchases.