Craft For All Kids The Beyond Speech Way!
At Beyond Speech we love all kinds of crafts, but we especially love crafts that hit important skills while also being so much fun! 
We've gathered together 20 fun and easy fall crafts for kids – there is truly something for everyone!
And since we love to play with a purpose, each of these crafts uses a combination of skills that address the 4 disciplines we work with at Beyond Speech Therapy Specialists:
OT – Fine motor skills, organized thinking, sensory work, etc
PT – Large muscle work, core strength, coordination, etc 
Speech – Oral fluency, expressive language, receptive language, vocabulary, speech sounds. etc. 
Social work – Social engagement and interactions, appropriate behavior, turn taking, etc.

We believe there is an opportunity to work these skills no matter what activity our kids are doing! Whether in therapy or during play at home, we can be practicing important skills and working toward therapy goals. 
Try a bunch and have some big fall fun!
Pumpkin Carving

It isn't really fall until you've found that perfect pumpkin to carve! We love pumpkin carving because it's an activity that hits so many skills at one time. Heavy work, fine motor practice and the opportunity for creative fun!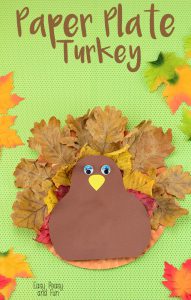 Paper Plate Turkey 
We love these easy, inexpensive and festive fall turkeys! Gather leaves for some big muscle work, use scissors for cutting practice and read a turkey story while you create your gobbler!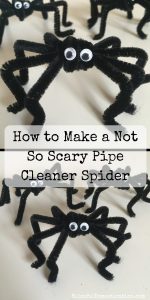 Pipe Cleaner Spiders
Take the scary out of these creepy crawly guys with this simple craft! We love using pipe cleaners to work small muscles and for some sensory input. Practice counting legs and using describing words as you create your spiders.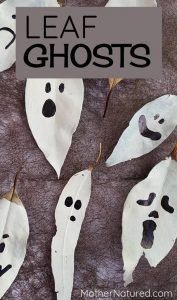 Leaf Ghosts
Make them friendly or spooky, it's all up to you! This easy craft will help get kids using their imagination while working fine motor skills. Create a gaggle of ghosts with different feeling faces and take turns telling spooky fun stories!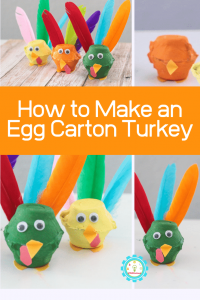 Egg Carton Turkeys
Create colorful little turkeys to decorate your Thanksgiving table! These little guys require some good direction following and include multiple steps that work concentration muscles.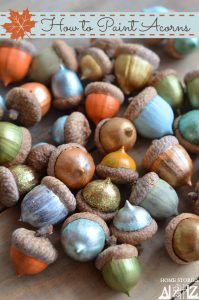 Painted Acorn
This is a great craft for your budding artists! After collecting acorns, use acrylic paint and glitter to create beautiful bursts of fall color. Another great opportunity to work small muscles while holding a paintbrush and manipulating the acorns.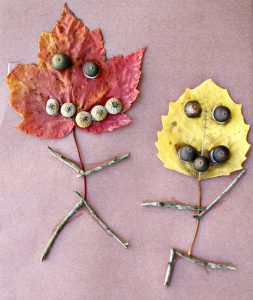 Leaf People Art
Another simple craft that requires just a few items. Collect a variety of leaves and twigs in all shapes and colors and as kids lay them out to create their leaf people, they will be practicing spatial reasoning and planning. Give each a cute feeling face too!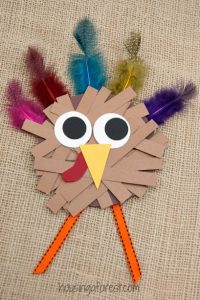 Paper Strip Turkeys
These little turkeys are a great way for our smaller friends to practice scissor skills and other fine motor work.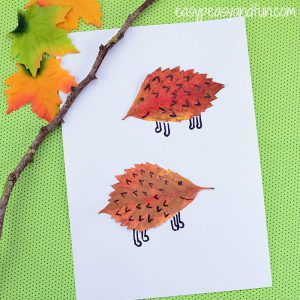 Leaf Hedgehog
Create a story starring a cute fall hedgehog! These quick and easy leaf hedgehogs are the perfect illustration to a story all about autumn adventures. Place a few on each page and let little storytelling imaginations run wild. Get a group of friends together and share your stories!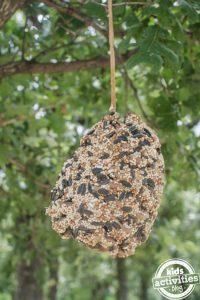 Pine Cone Bird Feeder
Fall is a great time to help our bird friends find a few tasty treats! With just a few ingredients, kids can create their own, nature-friendly bird feeder. This craft is great for older kids working on step-by-step directions and those kids who love a multi-sensory experience.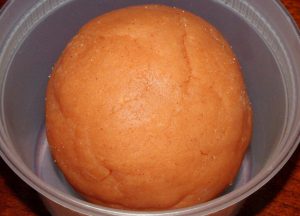 Pumpkin Pie Play Dough
Bring fall into the kitchen with this easy play dough that incorporates some yummy pumpkin scent. Have kids begin by organizing and planning ingredients then carefully following the directions. A great muscle builder for small hands, this is sure to be a Fall craft classic.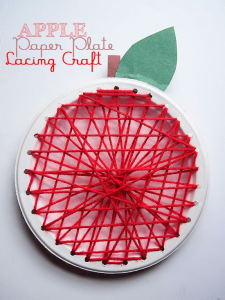 Apple Paper Plate – Lacing
An easy craft that requires only a few supplies but hits some big OT skills. This simple craft could be modified to use different colors and sized yarn for added sensory practice.  Encourage kiddos to repeat patterns around the plate and talk about where each hole is in relation to others using next to/above/below/across from, etc.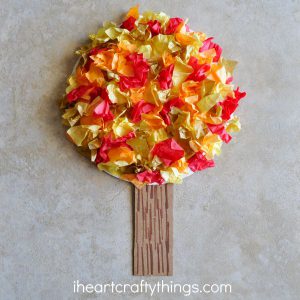 Fall Tissue Paper Tree
Lots of great sensory and conversation opportunities to be had as you grow your tissue paper forest! Cut small pieces of tissue paper and use fine movements to crunch them up and glue them to your tree. Have kiddos describe how the paper feels, what steps they take to fill the plate and how many pieces they think they'll need to fill the whole tree.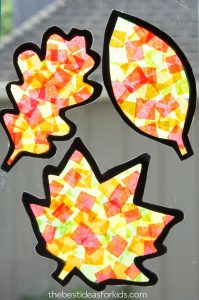 Leaf Sun Catcher
Another easy, and beautiful, tissue paper craft. Have kids cut squares of paper in different sizes (they can practice sorting by color and size too) and create a pretty fall window decoration!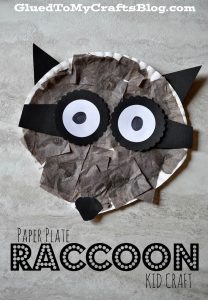 Paper Plate Raccoon
A great multi-step craft for kids of all ages. This friendly faced raccoon requires some planning skills along with fine motor work for cutting and pasting.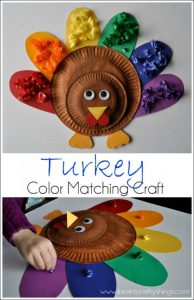 Color Matching Turkey
Another fun fall turkey but this time we're practicing color recognition! Create a turkey with a rainbow tail and match tissue paper to decorate each colorful feather.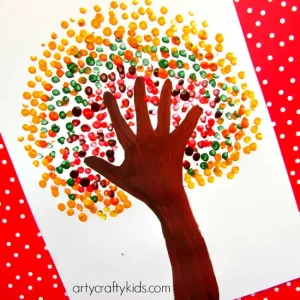 Autumn Handprint Tree
Grab the finger paints and get to work creating a fun fall tree! A great sensory activity, use fall colors and have kids make "leaves" using their fingers. Trace their arm for the tree trunk and you've got a beautiful autumn tree!
Fall Wind Chime
Turn a fall hike into a treasure hunt and collect bits and pieces for this fun wind chime. Add in cut out fall shapes, beads and anything you'd like for the perfect DIY fall decoration.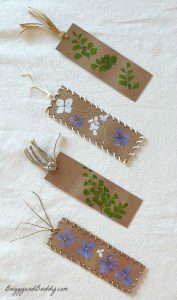 Pressed Leaf Bookmarks
Gather some beautiful small leaves and fall flowers to create these pretty bookmarks. A great craft for older kids, this project allows for excellent planning and spatial practice. Fine motor muscles work as they place the small items on the cardboard.
Grateful Turkey Candy Jar
A great gift idea for teachers, grandparents or anyone you love! These little mason jar turkeys give kiddos a chance to express feelings of friendship and love while working those creative muscles. 
We hope you can try a bunch of these fall crafts for kids and have a blast playing with a purpose!
If you're looking for more resources and direction, please reach out to us at Beyond Speech Therapy Specialist. We'd love to help!