It's easy to look back over the last 10 years and think, "Wow! That went fast!" because it sure did! But what takes a bit more time, and brings us far more joy, is to reflect on the smaller moments that have added up to make Beyond Speech Therapy Services what it is today!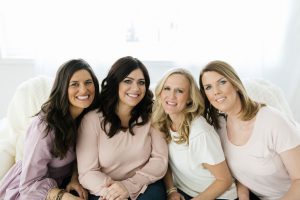 10 Years Ago…
What began as an idea among 4 friends, has grown into a multi-discipline, private, in-home therapy company that serves children and families all over the Chicagoland area and employs over 40 amazing therapists and staff. 
And we feel like we're just getting started!
10 years ago our 4 owners, Carrie, Jill, Katie and Laura, had a dream of what they wanted pediatric therapy to look like – in-home, personal and based on their deep desire to make an impact on children and support their families. 
As entrepreneurship usually goes, there were A LOT of missteps in the beginning, lots of wrong turns and dead ends. There were moments of frustration and group texts that went on for hours as issues came up and problems needed to be solved. But what came right along with those harder moments were lessons and clarity and the constant drive to do better the next time. 
"The reason we are still here is because we continue to learn from our mistakes,
move forward even if we are fearful and pick each other up when we need to".
-Katie McEnerny
For the team at Beyond Speech, success has never been measured in the usual data and metrics. It's a child's first words spoken during a session or a belly laugh even as they worked so hard toward their goals. 
The connections made and nurtured with the families we serve is what keeps us saying, "This isn't just a job". We have watched our very first clients go from "then preschoolers" to teenagers, "new walkers" to middle school track stars and "new talkers" to students finding success along their journey. 
And those connections don't end when the appointments do!
"One of my first families and I still exchange Christmas cards every year.
I feel connected to them even though I haven't seen their daughter in years!"
                      -Carrie Marrone
As Beyond Speech has grown, so has its amazing team and staff! 
In those early years of being a 4-woman show, all scheduling, billing and marketing was tackled around a kitchen table with Google and major trial and error! Things have changed since then but the passion that existed all those years ago has only grown. 
Small milestones gave way to major accomplishments as our team of therapists grew as well! With this expanded team, we were able to serve a greater number of clients in a larger area. We grew through word of mouth and client referrals and we started to see our vision becoming a beautiful reality! 
Then came top-notch administrative staff who keep things running smoothly. Beyond Speech Therapy Services is what it is today thanks to our wonderful team!
"We have been fortunate to collect a team of some of the most dedicated, empathic
and compassionate people out there to help us fulfill our mission."
          -Jill Olszta
In addition to building an amazing team and serving hundreds of kids over the years, we have also been committed to being a partner within our community. As local residents of the southwest suburbs, it was important that we were a strong and supportive presence in our home towns. 
We want our work and mission to be felt beyond the homes we work in every day. A healthy, supported community helps raise healthy, supported kids! And we love being a part of that. 
"Over the past 10 years Beyond Speech has been proud to partner with local community programs, preschools,
daycares and children's museums!  Partnerships with organizations such as these have
allowed us to reach families and offer services to children within our larger community."
            -Laura Walsh
Steve Jobs once said – "The only way to do great work is to love what you do." That could be the tagline of Beyond Speech Therapy Services! 
This company began as a mission driven dream and has grown into something far more. Beyond Speech provides services, tools and strategies to our families but even more simply, we want to give help…and hope.
The children and families we help are more to us than a number on a sheet; they are a collection of hopes, dreams, struggles and successes. They are smiling faces and clapping hands. They are big hugs and even bigger high fives. They are the reason we continue to build, grow and expand. Our mission is, and always will be, the families we serve.
As we celebrate 10 wonderful years at Beyond Speech Therapy Services, we want to thank each and every one of our clients and their families for the trust they put in us each day. It is our honor to partner with you and we can't wait for what's to come!